THANK YOU MOONBEAR MANIACS!! AND MANDELA
CLICK IMAGE BELOW TO READ MUCH MORE

DONT' FORGET TO START YOUR BLISS PAGE AND SEND ME YOUR MOONBEAR HAIKU!!! THE BOOK IS GROWING FAST
CLICK THE BAMBOO TEAHOUSE BADGE IN THE LEFTHAND COLUMN TO START
ABOVE. RESCUED MOONBEAR AT AAF CHINA ON OUR TRIP IN 2008
Well, my friends …we did it!!! With the generous support of our Pandarazzi family and additional Moonbear Luv from our new friends at URSA FREEDOM PROJECT….we made our goal of $600.00 (plus some) to adopt/sponsor a third moonbear!!!
THANK YOU CONTRIBUTORS
______________________________
Marilyn Kamna
Jan Lockhart
Lynn Richardson
Sabina Holdsworth
Judy Young
Joseph Brady
Tanya Ross
Margaret Schindel
Deb Hethorn
James Shaw
Elizabeth Wilson
Dania Gerhardt
Gay Noland
Primeclass Traders
Allan Birmantes
Elise Ney
I am in the process of talking to AAF and studying Jills blog to choose our special rescue (tough job..they ALL are special).  Thank you all so very much for answering the call to action for this project!!  I'll have much more news soon!!!
AND CHECK OUT JILLS BLOG AAF BELOW WITH SOME INTERESTING TIDBITS ABOUT JANE GOODALL AND OUR BOY MANDELA!!!  CLICK IMAGE TO ACCESS JILLS BLOG FOR MORE UPDATES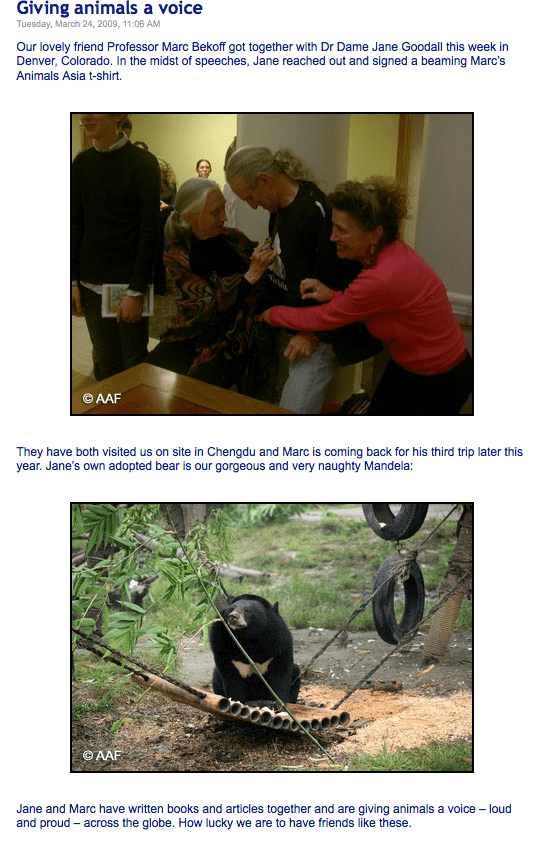 ARTICLE COURTESY ANIMALS ASIA FOUNDATION