Your own BLOG, Upload pix, Chat live…FREE AT PANDARAZZI!!
WARNING…YOU MAY HAVE WAY TOO MUCH FUN SETTING UP YOUR NEW PERSONAL PAGES THIS WEEKEND WITH OUR NEW PANDARAZZI SOCIAL NETWORKING SITE
WOW. do I have a treat for you guys!! Our Pandarazzi viewership and participation has been unbelievable these past months!!  I want to give back to you all what you have selflessly given to our moonbears and pandas if I can.  So roll out the red carpet…YOUR NEW PANDARAZZI SOCIAL NETWORK IS HERE!!!!

Simply by clicking this button above which which will always be located in the upper left column of the PANDARAZZI blog,
YOU WILL BE TRANSPORTED TO OUR SOCIAL NETWORKING PORTAL CALLED THE BAMBOO TEAHOUSE.
NOTE: THIS IS A SEPARATE SYSTEM FROM MY BLOG AND YOU MUST SIGN UP (FREE AND FAST) TO USE ALL THE YUMMY FEATURES AND TO ACCCESS YOUR PHOTO PAGES, PERSONAL BLOG, THE LIVE CHAT AND A "WALL" FOR YOU AND YOUR FRIENDS TO COMMUNICATE BACK AND FORTH AT.
Click the banner or button on this post to get started!!! If you need any help at all just contact me.  I will be adding GROUPS for specific discussions and other extras.  This is an OPEN group so please invite your friends to participate who enjoy learning about animals, gardens, endangered species  etc.  The more the merrier.  It's kind of like a "Pandarazzi Facebook" but way cooler!!!
ONE GUIDELINE…NO SELLING OF ITEMS AT THE SITE.  SHOWING THEM OFF IS WAY COOL BUT NO POSTING OF PRICES OR TRANSACTIONS AT THE BAMBOO TEAHOUSE.  USE YOUR PROFILE TO GUIDE VISITORS TO YOUR SITE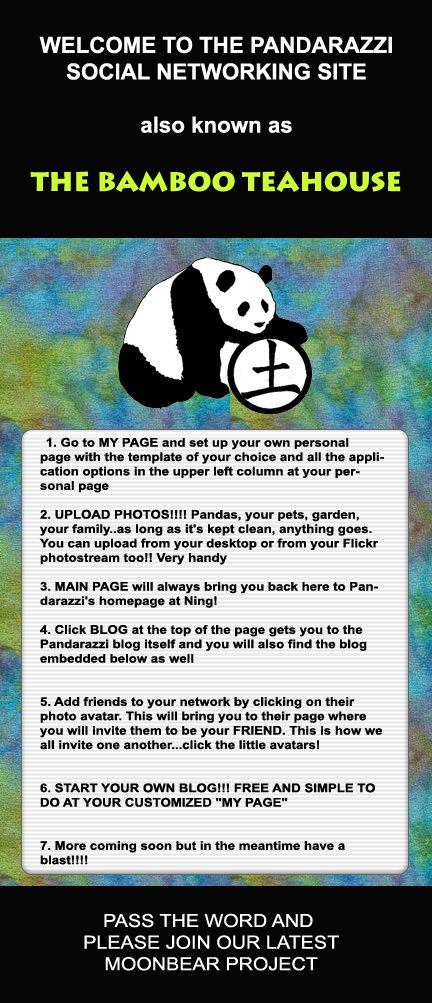 .
.
.
.