MISSION MOONBEAR SPONSORS…BREAK OUT THE CHOCOLATE CIGARS!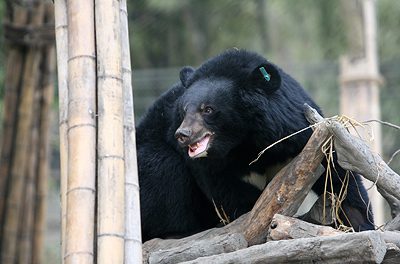 Hello, my friends and Mission Moonbear #3 members!!! I'm very proud to announce we have all our money collected for our special sponsored bear and to give you a sneak peek. His name is WILFRED… aka "Watermelon".  He got his name from the fact that all he would eat when he first was rescued was the sweet and tasty confection…. watermelon.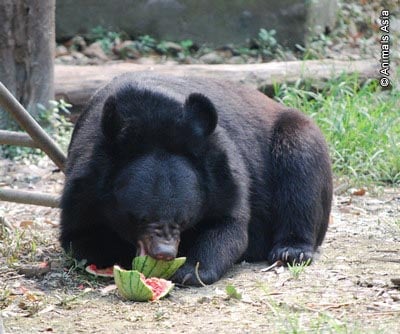 Above is a photo by Animals Asia as he arrived at AAF in his lifelong cage prison, having a taste of one of his many "first" pleasures in his new world…….fresh watermelon…..click the link to see how our boy Wilfred looks today and read his incredible story of survival!!
CLICK HERE TO SEE MY MOONBEAR PHOTOS
Thank you all so very much for your kind and generous donations to help house and feed this beautiful blind moonbear.  He is buddies with our previously adopted Mityan which is part of the reason I chose  Wilfred for our group.  I can't wait to get to Chengdu to see these boys for myself again…especially now that I have names and stories to connect with each moonbear.
THESE PHOTOS ARE PROOF POSITIVE THAT YOUR SPONSORSHIP DOLLARS ARE MAKING A DIFFERENCE IN EACH INDIVIDUAL LIFE OF THE ENDANGERED MOONBEARS. WHO WEAR THE CRESCENT  MOON "SHIELD" OVER THEIR HEARTS!
Luna Ursa Hugs and eternal thanks!!!!!
Sandra Miller
founder MISSION MOONBEAR
[email protected]

VISIT ANIMALS ASIA FOUNDATION
https://animalsasia.org