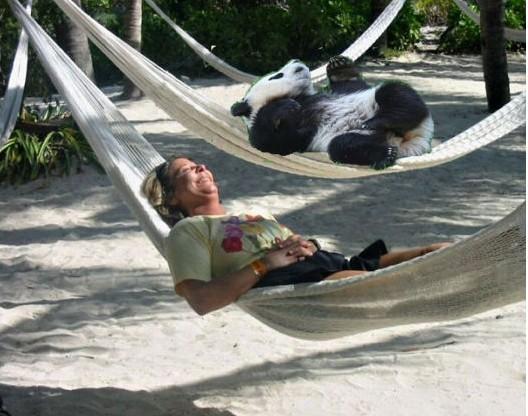 WHEN ELISE ISN'T NAPPING WITH TAI..SHE IS COMPLETELY IMMERSED IN SUPPORTING IMPORTANT ANIMAL CAUSES!
My gosh Pandarazzi's readership has simply skyrocketed since I made the shift from that difficult forum format to this easy to use blog to use for communication.  Thank you all for bear-ing with me during the transition but growing pains and improvements always mean we are moving forward …which is an outstanding thing!!!
As part of this growing process, I have added 2 regular contributors to the blog and will invite guest authors to post as well.  I am introducing them in no particular order. I just happen to have the pix ready to post of one of them, so today you all get to meet a wonderful friend and panda lover from the Washington DC area, Elise.
I  met Elise via the Flickr group "Pandas Unlimited" and recently got to meet her in person when I traveled to the Smithsonian Zoo in DC for TaiShan's 3rd birthday
ME GIVING MY TALK AT THE DC ZOO
Elise and I had all of maybe 10 minutes to chat in DC but have been emailing back and forth ever since.  When I brought up the plight of the moonbears on the Pandas Unlimited list….Elise jumped on the bandwagon with guns a blazing…… and has been actively championing the little bears through petition signing, writing letters, and donating to Animals Asia and other anti bile farming organizations ever since.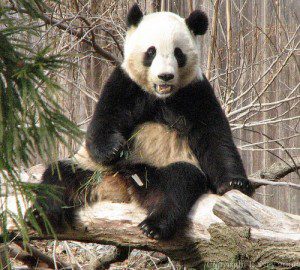 The panda loves of her life are Tai Shan and the Tian panda family at the National Zoo.  Elise is so lucky to be able to visit them in person and take these wonderful images you see here!!  You can visit Elise's photostream by clicking any of her Tai images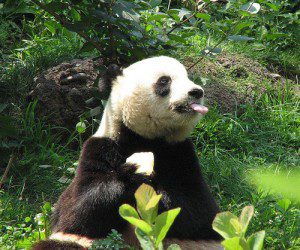 Elises' alias on PANDARAZZI is "Bear it All" , so when you see her name in the comments and as the author of posts, you will know she took precious time away from hanging out with Tai in the hammock, drinking BEAR-Y coolers,  to author our blog posts or help me organize the exciting fundraisers we have coming up for PROJECT PANDA!  Elise is a MISSION MOONBEAR quilt square contributor.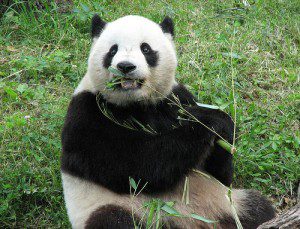 THANK YOU ELISE FOR ALL YOUR CONTRIBUTIONS TO ANIMAL WELFARE AND PROTECTION AND PRESERVATION OF ENDANGERED SPECIES.  YOUR HEART IS AS BIG AS THE UNIVERSE!
.
.
.