Renovations at the Chengdu Panda Base
Some wonderful news today from the Panda Base.  They have been doing some serious renovation work following the Sichuan earthquake this spring and upgrading in the process.  It was gorgeous BEFORE….They take such pride in their World Heritage sites.
Wow, I can't wait to return next year and see all these babies romping in the kindergarten!!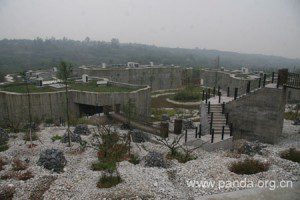 " Green areas make up most of phase 3, as well as a tourist passage surrounding the Giant Panda Nursery. The nursery itself is elaborately designed to look like a house made from bamboo. Visitors enter the building by way of a suspension bridge.  Looking down into the building from the bridge, visitors will see Qiang and Tibetan influences dominating the architecture.
The Giant Panda Museum, as a symbolic building in the panda base, is now completed and exhibit design work is currently in progress. Characteristic of museums in China, it not only displays conservation works and serves as an important educational facility, but also highlights tourist areas within the country.. According to the design plan for the museum, it will fully display the evolution and situation of the panda. At the same time, it creates an interactive experience for visitors to generate an understanding of the endangered national treasure, and inspires care and conservation for wildlife"
They have really dressed up the entry since my last visit too