There is an absolute wealth of stunning photos on Flickr where I store my own images.  Part of the fun as a blogger is being able to post directly from Flicker some of my favorite photo sets.  Members give blogging permissions in their Flickr preferences and all the pix link back to their photostreams automatically.
I was introduced to Leo uu's photos recently through one of our wonderful Adoption Tribe members Chet Chin. Metal and Wood tribe twins and forwarded me the link.
I started looking further and noticed the familiar grounds of the Chengdu Panda Base in one of the sets.  After writing to Leo uu we deducted that the photo you see above could very well be my adopted baby BaoShi.   The excessively squeezable and chubby cheeks make it pretty likely as Leo uu says "This baby looks like MeiLan, i think she is XiangBing.". (XiangBing was Bao Shi's birth name…Mei Lan and she are closely related)
Whether this is BaoShi or not…the cute factor in this photo set is over the top!!  What a thrill to see so many of the young pandas from my February trip again!!!  Thank you Leo uu for the memories!
If you find the time I"m sure Leo uu would LOVE if you commented on the pix!!!  I will be featuring many many wonderful photographers and pandarazzi's work here over the coming months..Stay tuned!!
BELOW. THANK YOU LEO UU FOR POINTING OUT THESE 2 WONDERFUL IMAGES ON BAO SHI IN YOUR SET!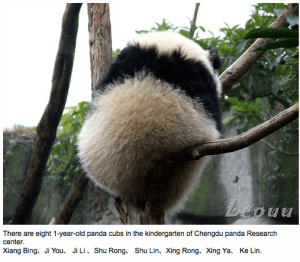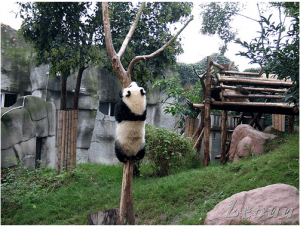 .
.
.

Some wonderful news today from the Panda Base.  They have been doing some serious renovation work following the Sichuan earthquake this spring and upgrading in the process.  It was gorgeous BEFORE….They take such pride in their World Heritage sites.
Wow, I can't wait to return next year and see all these babies romping in the kindergarten!!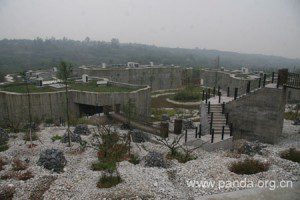 " Green areas make up most of phase 3, as well as a tourist passage surrounding the Giant Panda Nursery. The nursery itself is elaborately designed to look like a house made from bamboo. Visitors enter the building by way of a suspension bridge.  Looking down into the building from the bridge, visitors will see Qiang and Tibetan influences dominating the architecture.
The Giant Panda Museum, as a symbolic building in the panda base, is now completed and exhibit design work is currently in progress. Characteristic of museums in China, it not only displays conservation works and serves as an important educational facility, but also highlights tourist areas within the country.. According to the design plan for the museum, it will fully display the evolution and situation of the panda. At the same time, it creates an interactive experience for visitors to generate an understanding of the endangered national treasure, and inspires care and conservation for wildlife"
They have really dressed up the entry since my last visit too