My beautiful Bao Shi that I adopted last February is in here somewhere.  I recognize so many of the panda nannies from our trip and the babies have grown by leaps and bounds!!!
DO YOU RECOGNIZE THIS PANDA KEEPER (SECOND FROM LEFT IN TOP PHOTO)
A WONDERFUL SURPRISE IN THE LONDON PAPER
"IT'S panda-monium! A whopping 13 giant panda cubs have been introduced to the public for the first time at their home in China.
The cubs were born last year at Chengdu Research Base of Giant Panda Breeding in Sichuan Province. This is the first time the cubs have been seen in public together after being nursed through their first months by keepers.
Research at the Chengdu Panda Base focuses on the advancement of wildlife conservation in China. While the giant panda is the principal species of interest, the Base also seeks to conserve the South China tiger, the red panda, the golden monkey, and others.
The base currently has 82 pandas in captivity, including the 13 cubs. Click to see more pictures of the cute cubs exploring their home."
.
.
.
As long as I was on a roll with the Elephant book, I decided it was time I finish my panda book as well.  I plan to take a leather cover copy of this to give to the Panda Base when I return next year as a gift.  I still have some proofing to do as well as insert a few of my more recent Project Panda jewelry designs…but for the most part, it is ready to publish.
What a job……my bottom is permanently molded to my computer chair but this is one of those projects that got put on the back burner until I could get my new computer.  The old one was just too slow and frustrating to do graphics etc with.
There will eventually be a book/slideshow on each of the 4 headers in CAPS under RECENT PROJECTS in the sidebar to the left.
CLICK THE PHOTO OF THE PANDA TO BRING THE SHOW-UP NICE AND LARGE..CLICKING ON ANY IMAGE  AGAIN WILL GIVE YOU SINGLE PAGES INSTEAD OF THE DOUBLE LAYOUT
And GREAT NEWS on the Mission Moonbear front!!!  Only ONE sponsorship square is left so grab it while you can.  All the sponsors for this moonbear will be sooooooooooo thrilled at the moonbear I was able to choose for us!!!!!!
As soon as I speak with the director of Animals Asia US again I will be able to release the details…hopefully, this week!!!  You guys are gonna FREAK!!  I hate keeping secrets!!
.
.
.

There is an absolute wealth of stunning photos on Flickr where I store my own images.  Part of the fun as a blogger is being able to post directly from Flicker some of my favorite photo sets.  Members give blogging permissions in their Flickr preferences and all the pix link back to their photostreams automatically.
I was introduced to Leo uu's photos recently through one of our wonderful Adoption Tribe members Chet Chin. Metal and Wood tribe twins and forwarded me the link.
I started looking further and noticed the familiar grounds of the Chengdu Panda Base in one of the sets.  After writing to Leo uu we deducted that the photo you see above could very well be my adopted baby BaoShi.   The excessively squeezable and chubby cheeks make it pretty likely as Leo uu says "This baby looks like MeiLan, i think she is XiangBing.". (XiangBing was Bao Shi's birth name…Mei Lan and she are closely related)
Whether this is BaoShi or not…the cute factor in this photo set is over the top!!  What a thrill to see so many of the young pandas from my February trip again!!!  Thank you Leo uu for the memories!
If you find the time I"m sure Leo uu would LOVE if you commented on the pix!!!  I will be featuring many many wonderful photographers and pandarazzi's work here over the coming months..Stay tuned!!
BELOW. THANK YOU LEO UU FOR POINTING OUT THESE 2 WONDERFUL IMAGES ON BAO SHI IN YOUR SET!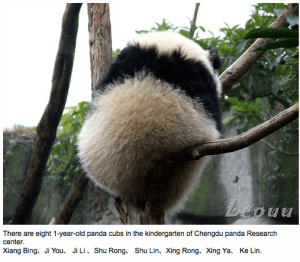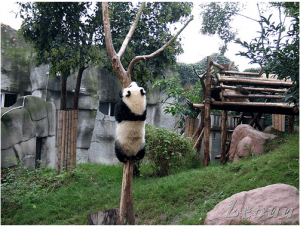 .
.
.